We live in Locking Stumps a small village near the town of Warrington in the county of Cheshire North West United Kingdom

Click this for your holiday weather
<! - KL - > Kath's Special Machine Embroidery Links | <! - FT - > Kath & Dixie's Family Tree | <! - FAT - > Fat Table |
| <! - SWA - > How to eat as much as you like and still lose weight. |
<! - RO - > | Thought of the Month |
I hope the following information is not boring. I have found that when people talk, they find many paths in their lives that have un-knowingly at some time or other crossed.... I hope this information manages to find a path or two that may have crossed with ours.. If we all write our KEY words of life in our HOME PAGES then the INTERNET would not only be rich in knowledge, but it could become rich in contacts from friends and acquaintances from the past.



I was born on the Wirral, in Tranmere on 9th April 1939 at 65 Cobden Street, not far from The Cammell Laird Ship Yard I was evacuated during the war to Lichfield in Staffordshire and lived at 100 Burton Old Road. My first school in Lichfield was The Friary. My Father, who originated from a small village near Shirebrook then I believe in the county of Derbyshire, a Company Sergeant Major in the South Wales Borderers had been posted to Cyprus .... In 1946 my Mum and I left England via Southampton on SS Andeas to join my Father.
We travelled via Gibraltar, Port Said, Ismallea and overland by train to Haifa, finally by Boat to Farmagusta in Cyprus. We lived in Nicosia for about 12 months and then moved to Famagusta for a further 12 months.
We returned to the UK on SS Orduna in 1950 and after about 12 months stay in Bebbington where I attended Gaultries School which has since been demolished, the location is now Gaultries Place. We moved to The Ryhmney Valley in South Wales, a small mining town called Aberbargoed. My Father who was still serving ran the local TA. My Schooling was completed in New Tredegar Mining & Technical Institute. From there I started work as an apprentice at Hestons Rubber Factory in Hengoed.


My Father retired from the Army, after 32 years service, and moved to Cleveleys in Blackpool where he worked for ICI till he retired...... In 1956 I joined the Royal Navy as an ME or Stoker and served in the following ships HMS Raleigh,HMS Jewel, HMS Dolphin,HMS Trafalgar, HMS Victory,HMS Diligence, HMS Orion,HMS Woolwich,HMS Drake,HMS Sultan,HMS Blake,HMS Sultan Again [103 MQC] (where I met and Married Kath),HMS Royal Arthur,HMS Osprey,HMS Undaunted,HMS Triumph, FMG Singapore,HMS Maidstone, HMS Ashanti, SMA Portsmouth,HMS Bristol, FMG Portsmouth, and finally HMS Nelson. When we first married we lived at 30 Hastings Avenue Gosport in the county of of Hampshire. In 1964 I was selected for a married accompanied draft to Singapore serving on HMS Triumph in Semberwang. We lived over the causeway in Jahore Bahru, Malayasia Jalan Mariarma and then Jalan Petri. We returned to the UK in 1967. We set up home in Bridefield Close Waterlooville. After 5 years we moved to Brook Gardens in Emsworth on the Hampshire/Sussex border. I left the Royal Navy in 1979 and at the end of that year we moved to Locking Stumps.

Now retired I was employed as an engineer surveyor and my general responsibilities were to inspect and risk access items of pressure plant as required by clients, mainly for the purpose of safety and insurability. I was originally employed since 1979 by The National Vulcan then the largest Engineering Insurance Group in the United Kingdom, which was part of The Sun Alliance Engineering Insurance Group. National Vulcan was a combination of The National Boiler, General Insurance Company and Vulcan Boiler Company. Sun Alliance Insurance Group has now merged with The Royal Insurance Group, their engineering section being British Engine. The result

The Royal & Sun Alliance Insurance Group .

My section was Royal & SunAlliance Engineering.

My hobbies are varied but include, Computing Amateur Video,Digital photogaphy Electronic Construction, Woodturning, Genealogy , Gardening & DIY. I also enjoy playing the Keyboard, Guitar, Ukulele & Bango. I am a licensed, Radio Amateur my call is G0JPC.

[g0jpc@theRSGB.net]

My previous 2nd class call was G1SMR.



My name is Kathleen (nee Banger) usually known as Kath. I was born in Fareham Hampshire In 1950 I went to Malta with my parents, brother Dudley and sister Margaret. My Dad was in the Royal Navy serving in HMS Liverpool and St. Angelo. He was Stores CPO. I went to Verdala School. in the early 1950's for 3 years. We then moved to Rothesay Road, in Gosport, Hampshire. I Went to The Gregg School (Secretarial) in Southampton for three years. I worked at Hydro Pneumatics in Gosport until I married.




Our children have all left home. Christopher who lives near in Gorse Covert. Andrew Fleet Service Manager (South)for Warburtons lives in Bury St Edmunds, Jason the Director of Loquax one of the leading www competition portal, lives with his wife Jude in South Wales.

My main hobby is machine knitting. I use a Passap E6000 with Creation 6 software, a Duo 80 and a Brother KH950i (Designer Knit 6 software) with Garter Carriage. I am a member of Knit netter Internet group, BBD list, Machine Knit Creation 6 & Machine Knit Chat groups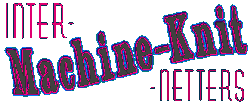 I also enjoy machine embroidery with my Brother Innov-is 1, pattern designing, digitising & machine crosstitch using Embird 2016, PE DESIGN 8 and Cross Stich Profesional 2000 Software packages. Other hobbies are reading, some television, competitions and crosswords. Diagnosed coeliac a few years ago gluten free cooking & baking is a challenge; and of course SURFING the Net.


| Last Update |